Welcome to Berrea, the home world of the Betty Sterling novels.
Berrea is a new type of fantasy world, where using magic is as common as brushing your teeth and where different species jostle for position and power.
Betty Sterling, the protagonist, is catapulted into a new role after a career crisis. And unlike his former career, he is no longer his own boss. Mr. Cristof calls the shots now, after snagging Betty with an offer he couldn't refuse.
In A Fine Basket of Fish, join Betty and his comrades, Jewels the elf and Sam the ogre, as they set off in search of missing fish. In the Sea of Arran, they find things stranger than any they could have imagined.
Betty's new career evolves in The Long-Lost Troll, and again his compatriots join the action—at least at first. When Betty is sent to shut down a potions ring, he ends up traveling to the Troll homeland, Durgaland, and comes face-to-gaping-maw with a dragon. And that's only the beginning! Join Betty, Lilahh, Jewels, Sam and others as they get to the bottom of a hostile takeover unlike any that has been tried before.
Details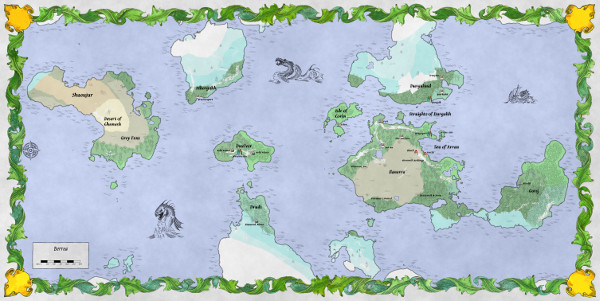 This low-resolution map of Berrea links to a much (MUCH) larger (about 11.5MB) high-resolution image. A smaller version of this image will appear in every Betty Sterling book going forward. More landmarks and places will be added as I create them. The map was "spun" using worldspinner.com and map icons are public domain images from wpclipart.com. The map is copyright 2017 Barry Scott Will and may not be reproduced without permission. Place names are are either the products of the author's imagination or used in a fictitious manner. Any resemblance to actual places is purely coincidental.
Details
Since 2005, Barry Scott Will has written 20 strategy guides for video games across a wide range of genres. His guides have sold several thousand copies and generated more than ten million hits on Web sites such as GameFAQs. His guides have received high praise from readers and won several awards; he was the "Writer of the Month" for gaming media giant IGN in October 2005. "The Long-Lost Troll" is his second novel set in a new type of fantasy world, one where using magic is as common as brushing your teeth. Barry currently resides in Virginia with his wife, three children, and ten video game systems.
Personal Web site: barryscottwill.com
Follow on Twitter: @PapaGamer
Like on Facebook: Barry Scott "PapaGamer" Will
Connect on LinkedIn: Barry Scott Will
Details