Welcome to Berrea, the home world of the Betty Sterling novels.
Berrea is a new type of fantasy world, where using magic is as common as brushing your teeth and where different species jostle for position and power.
Betty Sterling, the protagonist, is catapulted into a new role after a career crisis. And unlike his former career, he is no longer his own boss. Mr. Cristof calls the shots now, after snagging Betty with an offer he couldn't refuse.
In A Fine Basket of Fish, join Betty and his comrades, Jewels the elf and Sam the ogre, as they set off in search of missing fish. In the Sea of Arran, they find things stranger than any they could have imagined.
Betty's new career evolves in The Long-Lost Troll, and again his compatriots join the action—at least at first. When Betty is sent to shut down a potions ring, he ends up traveling to the Troll homeland, Durgaland, and comes face-to-gaping-maw with a dragon. And that's only the beginning! Join Betty, Lilahh, Jewels, Sam and others as they get to the bottom of a hostile takeover unlike any that has been tried before.
Details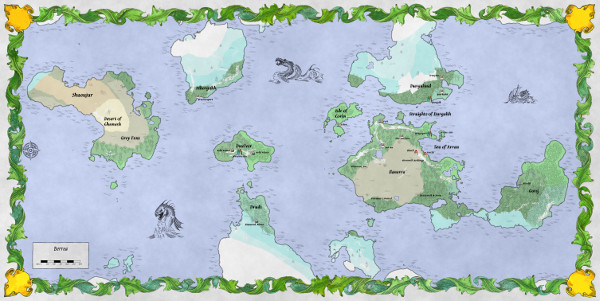 This low-resolution map of Berrea links to a much (MUCH) larger (about 11.5MB) high-resolution image. A smaller version of this image will appear in every Betty Sterling book going forward. More landmarks and places will be added as I create them. The map was "spun" using worldspinner.com and map icons are public domain images from wpclipart.com. The map is copyright 2017 Barry Scott Will and may not be reproduced without permission. Place names are are either the products of the author's imagination or used in a fictitious manner. Any resemblance to actual places is purely coincidental.
Details
Since 2005, Barry Scott Will has written 20 strategy guides for video games across a wide range of genres. His guides have sold several thousand copies and generated more than ten million hits on Web sites such as GameFAQs. His guides have received high praise from readers and won several awards; he was the "Writer of the Month" for gaming media giant IGN in October 2005. "The Long-Lost Troll" is his second novel set in a new type of fantasy world, one where using magic is as common as brushing your teeth. Barry currently resides in Virginia with his wife, three children, and ten video game systems.
Personal Web site: barryscottwill.com
Follow on Twitter: @PapaGamer
Like on Facebook: Barry Scott "PapaGamer" Will
Connect on LinkedIn: Barry Scott Will
Details
11/16/2017 - Hanover Herald-Progress featured Barry in this article in print and online.
11/15/2017 - Maggie Walker's Smoke and Scales blog featured Barry's author visit for National Novel Writing Month. See the article on the right.
11/10/2017 - The Long-Lost Troll's press release has been picked up by First Line Mag, and can be viewed here.
10/31/2017 - Maggie L. Walker Governor's School Library posted this plug for the author visit.
10/31/2017 - The Long-Lost Troll's press release has been picked up by PRNews.com, which can be viewed here for 30 days.
10/30/2017 - The press release for The Long-Lost Troll by PRLog.com can be viewed here.
10/27/2005 - IGN's Writer of the Month article about Barry.
Details
Upcoming Events
TBD Book Signing & Author Visit - Amazing Fantasy Comics, Village Square, 5005 Victory Blvd. Suite A3, Yorktown, VA 23693. Time: TBD (contact: Sandy). Note: Previously-scheduled Comic Book Day event was canceled due to an unexpected turn of events. This will be resheduled soon.
Is your organization interested in hosting an author event? Contact Valutivity Press.
Previous Events
12/20/2017 Author Visit at Sci-Fi City, Orlando, FL, 6-9p (contact: Troy) - an exciting venue given that they are one of Orlando Weekly's "8 great places to get your geek on in Orlando"!
11/17/2017 Book Release Party - Fairmount Christian Church, Mechanicsville, VA - 7-9p - in the back Worship Center lobby. Will feature a book reading and signing by the author and illustrator.
12/1/2017 Author Visit for Creative Writing class - Lee-Davis High School, Mechanicsville, VA - A4, 2:15-3:00p
11/11/2017 Book Release Party - Blue Marble Comics & Games, Inc., Mechanicsville, VA - 12-4p
11/2/2017 Book Signing & Author Visit - Lee-Davis High School, Mechanicsville, VA - Flex, 11:25a to 12:05p - guests from the community are welcomed but should arrive a few minutes early to sign in at the office.
11/1/2017 Author Visit & Readings - Maggie L. Walker Governor's School MLWGS, Richmond, VA - 11:35 to 12:20p - guests from the community are welcomed but should arrive a few minutes early to sign in at the office.
4/17/2014 Author Visit - Chincoteague Island Library, Chincoteague, VA
2/15/2014 Book Release Party - Ashland Coffee & Tea, Ashland, VA

Details
A collection of terms from the "Betty Sterling" books...
Length/Distance
The smallest measurement of distance (or dimension) is the width, which is equal to the width of a normal person's thumb (about one inch). Next is the span, equal to the span of a normal person's hand (about 4-1/2 widths or inches). Next is the four, equal to the distance from a person's outstretched fingers to the elbow (about 4 spans or 18 inches). (The term four is derived from "forearm," though some mistakenly think it refers to "four" spans.) Finally, the length is the distance from a person's outstretched fingers to the shoulder, which is about 7 spans or 30 inches.* The most commonly used longer distance is the furlong, which is 440 lengths (about 660 feet). Occasionally, people will refer to "walks," being the distance a normal person can walk in one-half a day (about 8 Earth miles).

*Significantly smaller (such as elves) or bigger (such as ogres) races dispute the standard measurements and there can be confusion in conversations between members of different races. Standardized measurements have not been introduced, but most public works are constructed on ogre-scale.


Mark: Standard unit of currency. Marks are small metal discs (coins) issued by the authorities. Corporate agencies mint the coins and imbue them with a special spell that authenticates them and can be detected by anyone holding the marks. They are thus officially "marked" as being authentic currency, from which they derive their name. Marks come in different denominations and are referred to by their number, such as a 1-mark piece, or a 10-mark piece, etc.


Scrying: Literally "to use divination to discover hidden knowledge or future events." Scrying is a generic term referring to using mental powers to see hidden things, or to see far away things, or to see into the future (prophecy). Doctors are trained to use scrying to see internal injuries, etc. Some techs can see into the future, though that is a very imperfect art. Most techs with telepathic powers are able to "far see," i.e. see objects that are very distant.


Tech/Technology/Technician
In the world of Berrea, magic is so common, the physical sciences have not advanced much at all. Rather, magic is used commonly in everyday life and is referred to as technology. People who can cast spells naturally are called technicians. Both magic itself and magicians are also called "tech" or "techs."


Time
Berreans use time measurements similar to Earth, except they do not have the concept of the "week" and there are 13 months in a year. The Berrean day is 24 hours. There are no named days nor named months, they simply refer to the 13th day of the 1st month, for example. The first month of spring is always month #1.


Weight
Berreans use a very specific method of measuring weight based on the weight of refined gold. The base unit is the "grain" (about one ounce). A "disc" is a small, flattened piece of gold weighing ten grains. Ten discs are shaped into a "bar" (about 6-1/4 pounds). Ten bars create a "brick." Five bricks equals a half-block and ten bricks equals a block. Some people still use the term "ogre" to refer to a block weight (a little over 600 pounds).*

*There are, as you can imagine, hard feelings in the ogre community over the use of this antiquated term for large weights.
Details