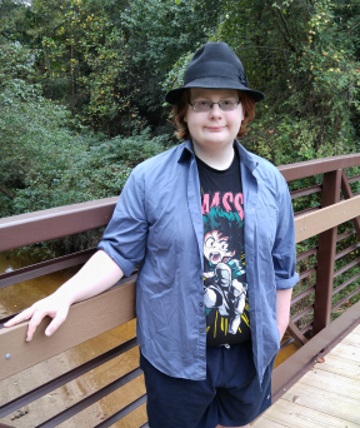 Ashton Leigh Will was the cover designer for A Fine Basket of Fish in 2013. His illustrations in The Long-Lost Troll (2017) are much more extensive, including cover art, chapter art featuring characters, and double-page spreads.
Ashton's graphic designs are featured for 3 plays in the 2017-2018 season for the Lee-Davis Players. In 2016-2017, his artworks were exhibited in the Lee-Davis High School Art Show, including a still life, a pencil sketch, a graphic design, a vector portrait and a sculpture. Another of his still lifes was displayed in the Hanover County Public Schools Superintendent's office. He has won nearly a dozen awards in the PTA Reflections contest through the years, most recently earning a state-level Award of Merit for Film Production in 2015.
His art education began at the Virginia Museum of Fine Arts when he was 3 years old; in high school, Cheryl Dillard has been a key mentor. He has also taken a course at the Metropolitan Museum of Art. He plans to major in Communication Arts or Illustration with a focus on character design and graphic novelism.
On weekend evenings, Ashton hangs out with his friends in Advance College Academy—in person or via Twitch. He sings and dances in a show choir called Madz, does tech for the Lee-Davis Players and enjoys the Board Games Club.
Facebook SheepEtiquette or Ashton Will
Instagram @therealsheepetiquette
Twitter @SheepEtiquette